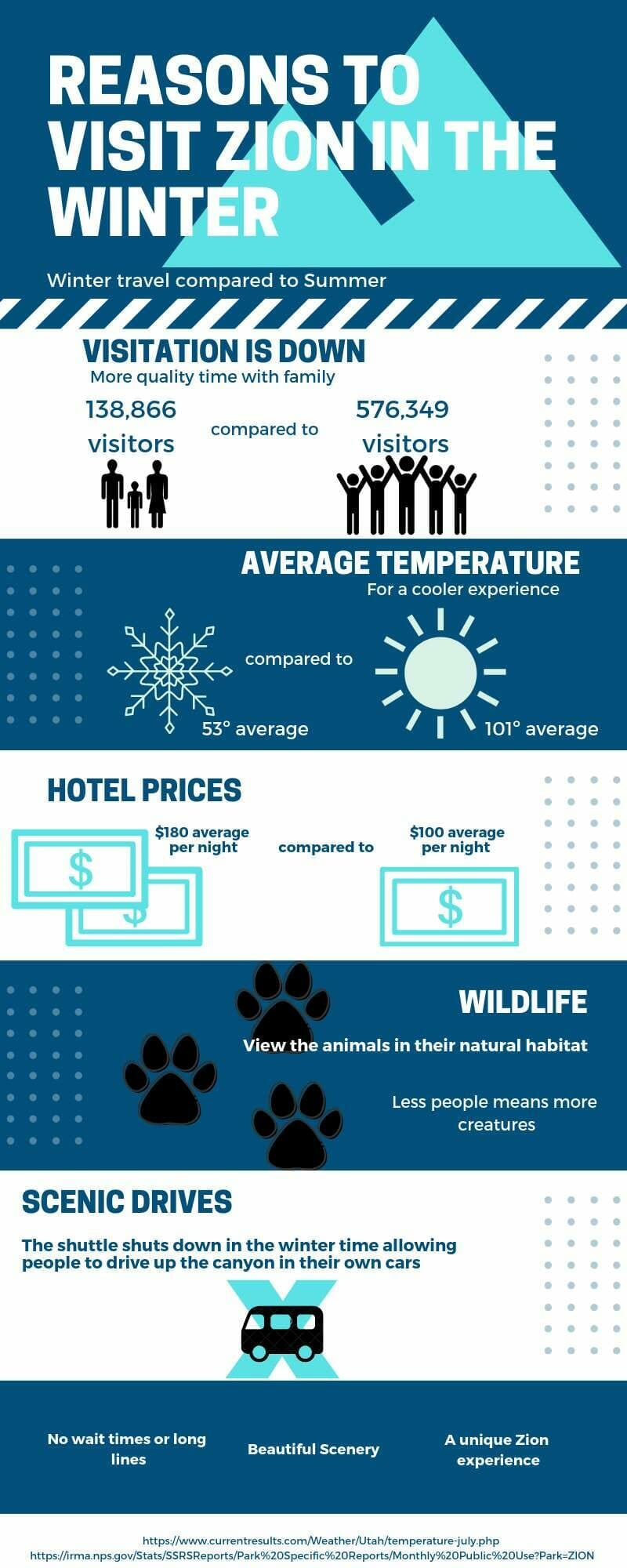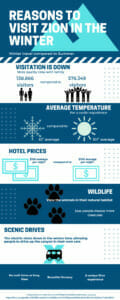 Winter in Zion
Zion National Park is growing in visitation each year thanks to the internet and everyone telling their friends how beautiful it is. This is great because more people are able to experience the majesty that the mountains have to offer. Unfortunately, all those people can disrupt the chance to connect with nature and take in the fullness of it. The off-season provides a solution to this, allowing travelers everywhere the opportunity to better their trips.
Traveling in the winter time is not the first option that comes to mind for most. Whether it be because of work, school or even because of the temperature, most people don't travel during the winter. The off-season should be a major consideration for a vacation to Zion because the winters are normally very mild. It isn't like the majority of Utah and rarely receives snow. Winter temperatures normally average around 53 degrees so although you may need a coat, you won't be trudging through snow to climb up the trails.
The shuttle that runs inside the park shuts down during the off-season and this lets people drive their own cars up the canyon. The scenery changes drastically in the winter time and is gorgeously complimented by the red rocks. The wildlife enjoys coming out and roaming around because of the silence that is felt with the absence of crowds.
Hotels close to Zion normally drop their prices in the winter too because there isn't such demand for rooms. This would be a perfect time for the budget traveler to pack their bags and experience nature the way it is meant to be. There aren't many negative ways to visit Zion, but traveling in the winter is arguably one of the better ways.
https://www.bumbleberry.com/wp-content/uploads/2016/03/BumbleberryInn-Logo-shrink-2.png
0
0
Tyler Smith
https://www.bumbleberry.com/wp-content/uploads/2016/03/BumbleberryInn-Logo-shrink-2.png
Tyler Smith
2018-11-20 21:49:13
2018-11-20 21:53:36
Reasons to visit Zion in the winter