Everyone loves to travel and explore new places that they haven't been before. Some trips go better than others and this can be for many different reasons. One of the best ways to get the best experience from your trip is to know a little about the local secrets that each town has – the hidden gems in the community. That is exactly what I want to provide: How to have a better Zion vacation.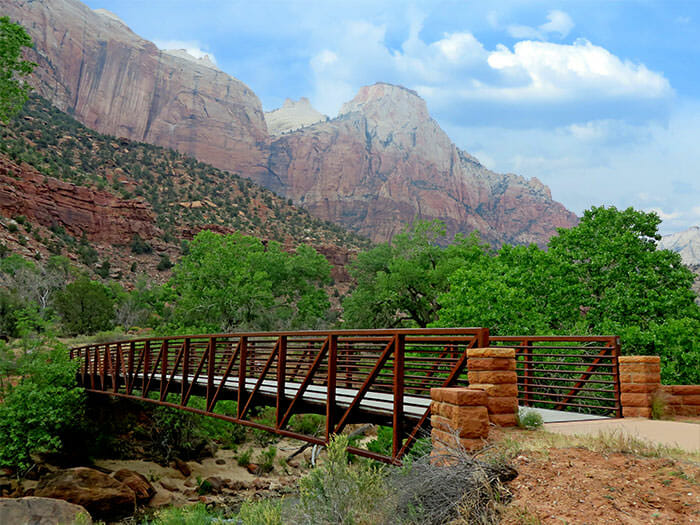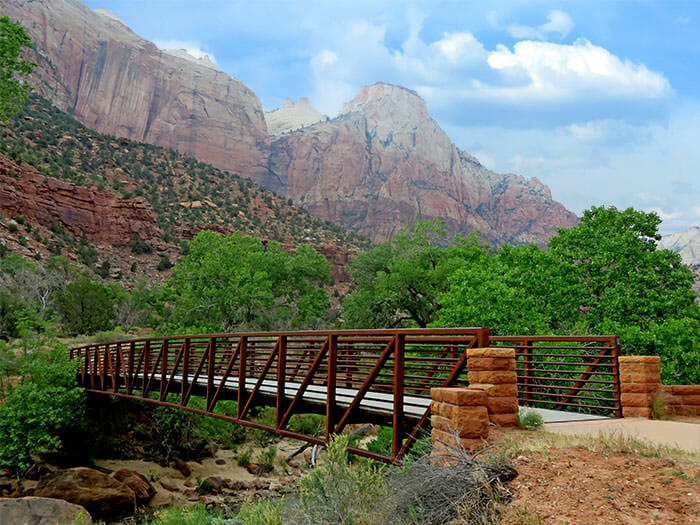 When To Travel
If you're like me, you like to travel but not with hundreds of random strangers. Nature is best enjoyed with family and friends in quiet serenity. Zion is one of the most visited National Parks in the United States, but it does have times that are slower than others. Towards the end of July and the beginning of August are great times to visit. School hasn't started yet in most places, but you won't have a hard time booking a hotel room or waiting in lines to get on the shuttles.
If you aren't a fan of the heat, November is a great time to travel. Zion has mild winters which allows the majority of the trails to stay open. The national park website has status updates each day of which trails are closed and why. There aren't many people that travel during this time and hotel prices are down from their summer rates.
Parking
With the increase of visitors each year, parking in Zion and Springdale has grown into a nightmare. Only the people that wake up early are lucky enough to get a parking spot at the visitor's center. There are parking lots that have recently been created to help alleviate traffic and allow people to stay closer to the park. However, you have to pay to stay there. Most of the hotels in Springdale allow free parking if you are staying with them. From there, you are able to take the free shuttle that circles around the town to the entrance of the park. Doing so will take away the stress of having to waste extra time finding the 'best' parking spot. Be careful though, most hotels issue a parking pass of some kind and check them daily and tow those cars that are parked without the permits.
Shuttle Rides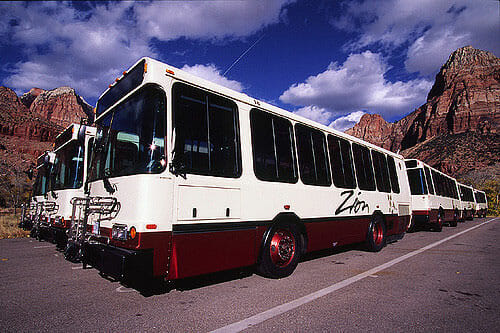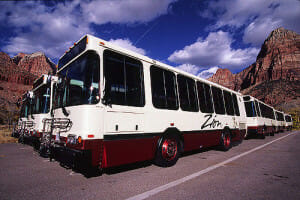 Zion has a lot of history and no one knows it better than the park services. The shuttle that runs inside of the park has an audio track played through the speakers as it makes the journey up the canyon to the Temple of Sinawava. It explains how Zion came to be, certain events that happened inside the park and different names of the mountains. The facts are extremely interesting, and the ride is a great time to rejuvenate your energy before continuing your hike.
If you arrive to Springdale later in the day and don't have time for a hike, a round trip on the shuttle takes about 80 minutes with all the stops. While on the shuttle, look out the window and keep your eyes open as it is very common to spot wild animals roaming in their natural habitats.
Surrounding Areas
Springdale sits in the middle of many great attractions. With Zion so close, many people overlook all the other things they are able to do. Bryce Canyon National Park and Snow Canyon State Park are only an hour away. Sand Hollow State Park is 45 minutes away and a great place to cool off after a day of hiking. It features beautiful red cliffs that surround it and a spot to cliff jump as well as beaches to relax and play with your family in the sand. Sand Hollow has a store to rent boats or wave runners as well. There are many incredible mountain biking trails that are close including those that are featured by the world-famous Red Bull Rampage. Other locations that are close by include Silver reef, Valley of Fire and Coral Pink sand dunes. Unpack once and spend more time exploring these great areas!
Rent Bicycles
A little-known fact about the shuttles is that they have spots on the front where bikes can be stored. A fun activity to do is take these bikes up to the last stop in the canyon and then ride them back down to the visitor's center. The majority of the ride is downhill, allowing for a relaxing ride with the fresh air blowing across your face. As you get closer to the entrance of the park, there will be a sign that says "Pa'arus trail access". This trail is one of the few that are bicycle accessible. It has a wonderful view of the back-country parts of Zion and another spot where wild animals are known to be seen. A road bike rental can cost less than $50 for the entire day, allowing for more exploring to be done after cruising in the Zion.
Canyon Overlook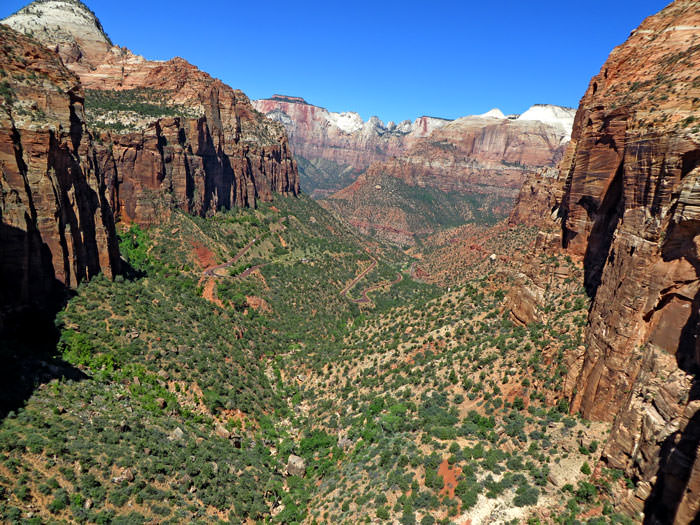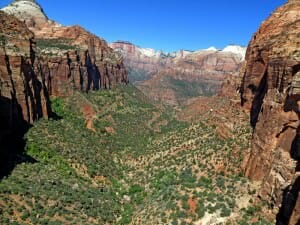 This is a less known trail that has a great view of Zion Canyon that differs from that of Angels Landing. Canyon Overlook is accessible by driving your car over to East Zion. It lays immediately to the left after exiting the first tunnel from the Springdale side. There is a small parking lot to the right, and not too much farther up the road lies more parking. The hike itself is 1-mile roundtrip and levels out after the initial stairs that lie at the beginning of the trail. The trail ends with a safety fence and a plaque describing the part of Zion that you are able to see from there.
Tubing
During summer, Southern Utah reaches temperatures of 100 degrees +. It is important to stay hydrated and cool! The Virgin river flows through Springdale and is calm the majority of the year. This is the same river that carved out Zions' mountains for millions of years! There are businesses in Springdale that rent out tubes to float down the river. This is an activity that is great for kids as well as adults. The company that rents the tubes also provides transportation as you exit the river to take you back to where you left your car. Depending on the time of year and how fast the river is flowing, it takes about 2 hours from start to finish.
Bumbleberry Pie
One of the keys to having a great experience in Zion is to stop by the Bumbleberry Gift Shop and try some bumbleberry pie! We make them fresh in our own bakery as well as jams, jellies and other baked goods. Your sweet tooth will love you for stopping in! After stopping by the bakery, our gift shop has plenty of fun souvenirs, t-shirts, hiking shoes and more for you to browse. You won't regret treating yourself to some pie and ice cream. As the saying goes, the first trip you come for Zion. The second trip, you come for Bumbleberry Pie!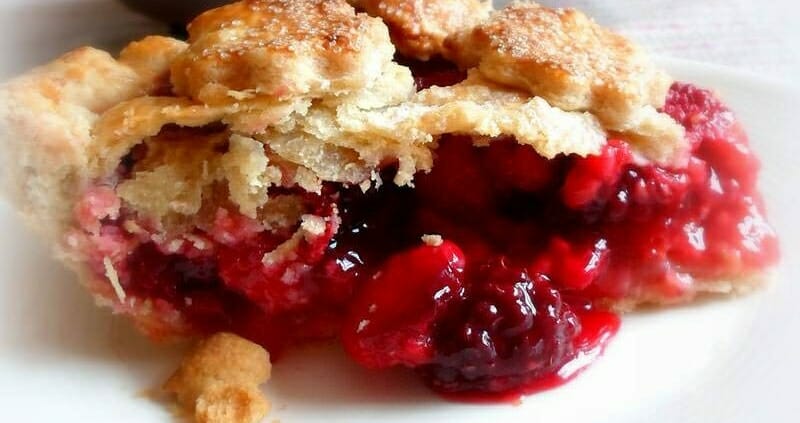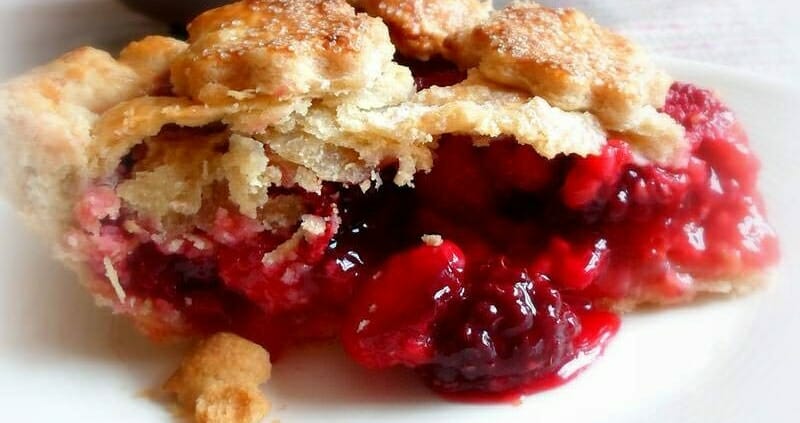 https://bumbleberry.com/wp-content/uploads/2016/03/BumbleberryInn-Logo-shrink-2.png
0
0
Zion Bumbleberry Hotel
https://bumbleberry.com/wp-content/uploads/2016/03/BumbleberryInn-Logo-shrink-2.png
Zion Bumbleberry Hotel
2018-10-01 21:00:56
2019-10-22 17:36:35
Local Zion Secrets