Hidden Gems – City Parks in Springdale
Did you know that Springdale has some of the prettiest city parks you'll find anywhere? And one of them is tucked back a bit so 99% of people who visit Zion don't even know it exists! Well, here's the low down on two of them, with our favorite being the hidden gem of sorts.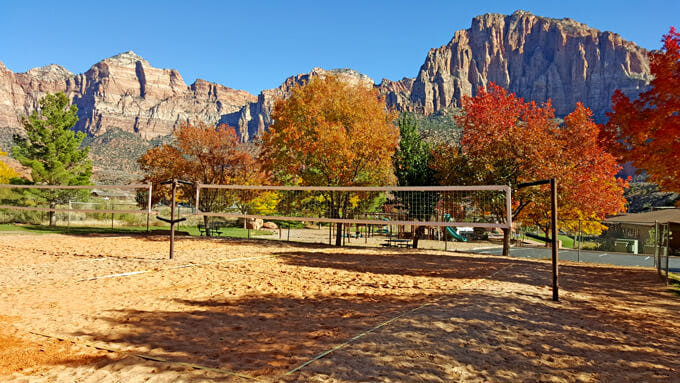 This city park has one of the most picturesque sand volleyball courts you'll find anywhere. Just look at that view! Playing a pick-up game of sand volleyball on those courts is something that you won't soon forget. And lucky enough the mild winters in Springdale mean you can often play here even during the winter months. They take great care of the courts, in fact when this picture was taken last week there was an older gentleman who helped construct the courts years ago, out shoveling the sand to make sure the courts were in playable condition.
There's more than just volleyball courts here too, in fact right behind the sand volleyball courts there are some tennis courts that have an equally astounding view of the canyons of Zion. And behind those there are some pickelball courts as well. So if it's tennis or pickelball that fits your fancy this park has you covered both ways.
Next to the volleyball court in Zion there's a children's play area that is sure to keep the little ones entertained. And if that doesn't there's also a soccer/baseball field right next to both of them where you could set them free to run and play until their hearts are content.
And last but not least, there is a pavilion and picnic tables available as well. So if you're looking to do some small bar-be-queuing then you're in luck. All in all this is one of the best small town parks west of the Mississippi.
You'll find this park right next to the Springdale town hall off of Lion Blvd. And here's a map to it as well:
Springdale River Park
The other park is one that's hard to miss as it's right off of the main drive through Springdale heading into Zion. It has some picnic tables set up, bathrooms available, and a bridge over the virgin river that is incredibly scenic. You really can't go wrong taking a quick break at this little park off of the main drive. Especially during the fall (the picture below was taken just a week ago), the falls come a little later here, and last a little longer than most places in southern Utah, so a late fall picnic to a place like the Springdale River Park is something you should definitely add to your list.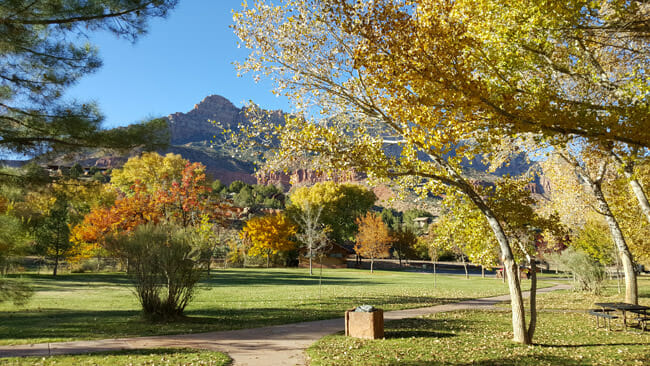 https://bumbleberry.com/wp-content/uploads/2016/03/BumbleberryInn-Logo-shrink-2.png
0
0
Zion Bumbleberry Hotel
https://bumbleberry.com/wp-content/uploads/2016/03/BumbleberryInn-Logo-shrink-2.png
Zion Bumbleberry Hotel
2015-11-20 18:07:11
2020-04-15 19:26:55
Hidden Gems – City Parks in Springdale