Places Near Zion to See – Red Mountain Trail
If you're coming to Zion and maybe looking to expand your reach slightly, then here's a place near Zion to see that definitely worth your time. Now don't get us wrong, there's enough in Zion to see that it would take you several years to see it all, but every once and awhile you might was a taste of something else, well the Red Mountain Trail next to St George is definitely a must!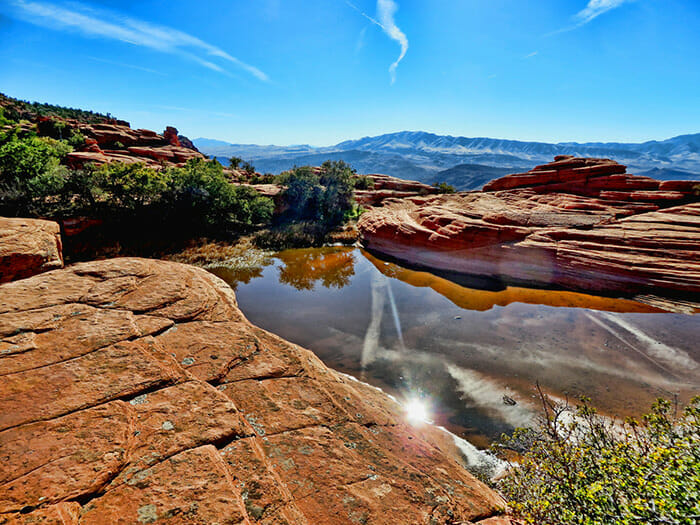 What is the Red Mountain Trail?
If you're familiar with Snow Canyon State Park then you'll quickly know why it's such a fantastic hike. Essentially you hike along the rim of Snow Canyon, the entire way. The hike itself is approximately 10 miles, and offers views upon views, upon views. You'll look down into greater Snow Canyon, then at times you'll be looking westward into the Kayenta valley, and finally you'll have a stunning view down into Ivins and St George.
The hike begins right by a city called Dammeron Valley, and then ends up in Ivins (there are several ways to access it, but this is the most prevalent). Now we do have to give a warning here, there have been a handful of search and rescue missions on this very trail, and that's primarily due to people thinking it's easy and can be done in 5 hours, so they head out without lights or knowing where they're going. This is backcountry so after awhile the trail disappears and you're on your own. So if you're going to hike it, make sure you're prepared and start in the morning.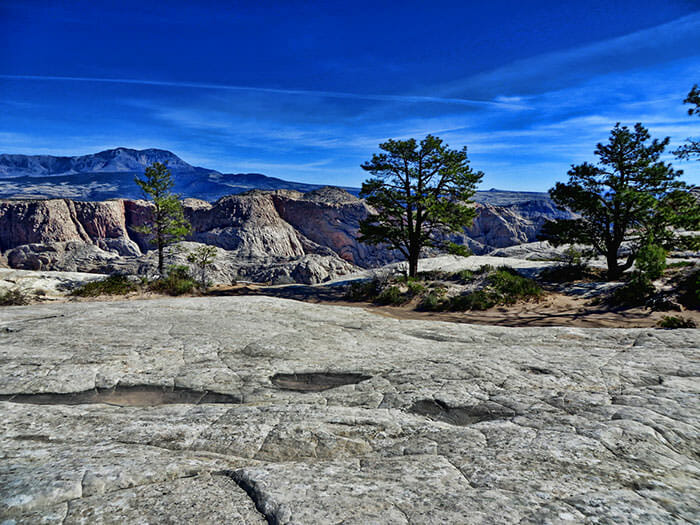 After starting out you'll hike for about an hour or so until you're greeted with a fork in the road (go right), then after another 30 minutes or so you'll get a different vantage point of the Snow Canyon Overlook that most don't see, and it's wonderful but in reality just the beginning of the views you'll be greeted with.
Before long you'll see a place where you can get off the trail and walk along the white rim of Snow Canyon, and here's where you'll first see the rock pools of water that dot the landscape along the top. In truth they were some of the most interesting/beautiful things you'll see along this hike (aside from the stellar views you'll have the entire time).
As you continue walking southward soon the rocks change from their drastic white to straight red and orange. so the contrast between the two only adds to the scene.
Before long you'll come to the end and be given that tremendous view down into Ivins that you'll want to stop and soak in for a few before you begin your descent and complete the trail.
So that's it, if you're looking for things to do near Zion then hiking the Red Mountain trail should definitely be on your list.
https://bumbleberry.com/wp-content/uploads/2016/03/BumbleberryInn-Logo-shrink-2.png
0
0
Zion Bumbleberry Hotel
https://bumbleberry.com/wp-content/uploads/2016/03/BumbleberryInn-Logo-shrink-2.png
Zion Bumbleberry Hotel
2015-03-06 19:25:07
2020-04-15 19:28:22
Places Near Zion to See – Red Mountain Trail