Reasons to Visit Zion in the Winter
Winter in Zion
Zion National Park is growing in visitation each year thanks to the internet and everyone telling their friends how beautiful it is. This is great because more people are able to experience the majesty that the mountains have to offer. Unfortunately, all those people can disrupt the chance to connect with nature and take in the fullness of it. The off-season provides a solution to this, allowing travelers everywhere the opportunity to better their trips.

Less Crowds
Traveling in the winter time is not the first option that comes to mind for most. Whether it be because of work, school or even because of the temperature, most people don't travel during the winter. Instead of fighting for views of the park with large crowds, you can spend quality, stress free time with your family while enjoying the park with less crowds.
Cooler Weather
Though there are chances that hikes and roads may be closed at times due to weather, the off-season should be a major consideration for a vacation to Zion because the winters are normally very mild. Due to its location in southern Utah, Zion is considered desert climate, with only occasional snow fall during the winter, unlike the majority of Utah. And even if it does snow in Zion, it rarely actually sticks.
Photo Credit: Tim on flickr
Winter temperatures normally average around 53 degrees, making hiking and sight seeing just as enjoyable during the warmer months, if not more-so. Although there are some safety precautions to take during winter and you may need a coat, you can still get out and enjoy some of the hikes that the park has to offer!
Places like Emerald Pools and Weeping Rock are easy enough and definitely worth the effort to see them in winter. The water flow is usually fairly substantial as well, so the waterfalls are often still flowing strong. It can even be more of an adventure if you dare to take on hikes such as Angels Landing! This is because of the rewarding and spectacular view you will get from atop the peak. With the snow contrasting hard against the red cliffs that surround Zion, it can be quite the view to take in. One that is beyond breathtaking.
Savings
Hotels close to Zion normally drop their prices in the winter too because there isn't such demand for rooms. Instead of paying $180 per night for your stay, you can save some big bucks with rates averaging at just $100 per night. This is ideal for those who may be traveling on a budget or for those who would be interested in spending those savings on other memorable activities. Even the shops in Springdale, located just outside the park, have savings during the holiday season!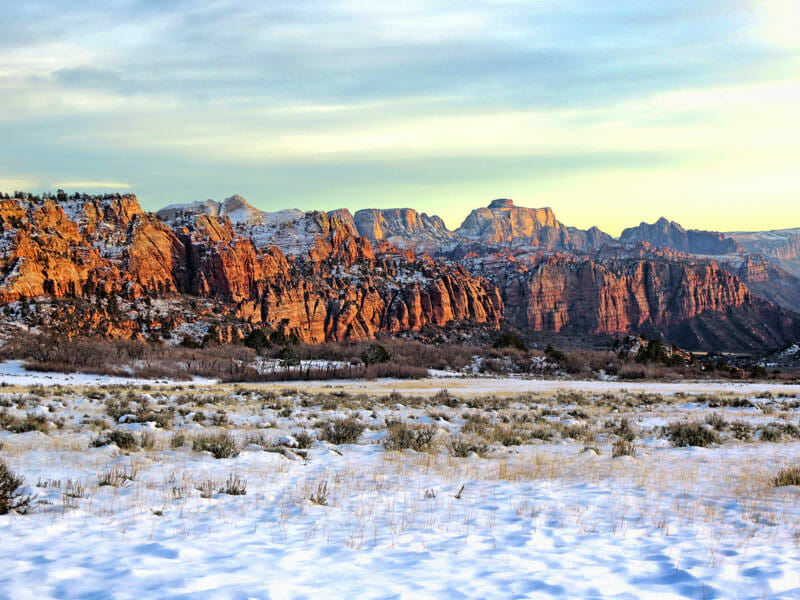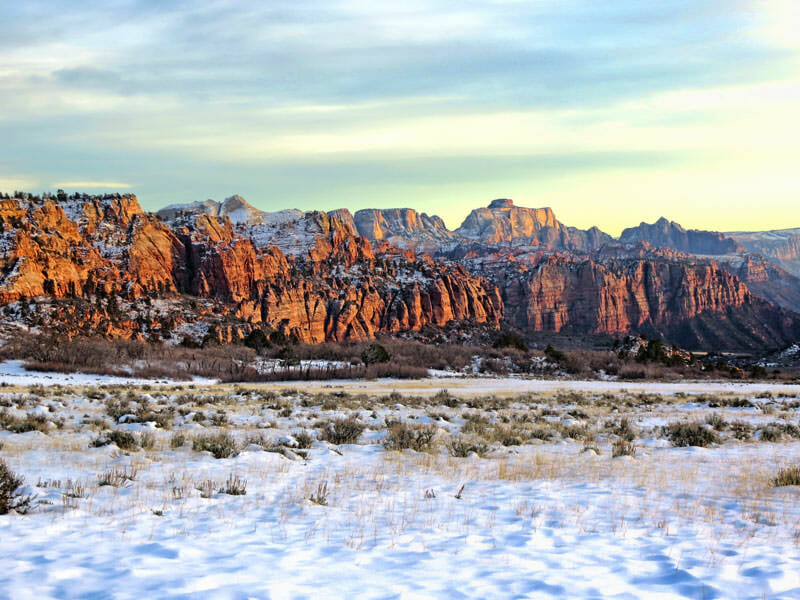 Wildlife
You can often find that the wildlife in Zion enjoys coming out and roaming around more often during the winter months. This is largely due to the absence of the noise that comes with large crowds during the more popular months.
Photo Credit: wildjob on flickr
Scenic Drive
During the busy season, the scenic drive in Zion Canyon is shut down to personal vehicles because of the shuttle that runs inside the park. The shuttle shuts down during the off-season and this allows people drive their own cars up the canyon. The scenery changes drastically in the winter time and is gorgeously complimented by the red rocks.
Another of our favorite scenic drives is a bit further than the main part of Zion, but still wildly beautiful part of the park called Kolob Canyon. The views just off of the road are expansive an inspiring. And if you are looking into seeing Zion with a bit of snow on it, then there are few better spots to see it at than Kolob Canyon. It sits just off of I – 15 near St George, and if you're in a hurry you could probably drive up and down it in 20 minutes or so. They do plow the roads, but they can still be quite slick right after a storm, but don't let that stop you as most cars should be able to handle it just fine.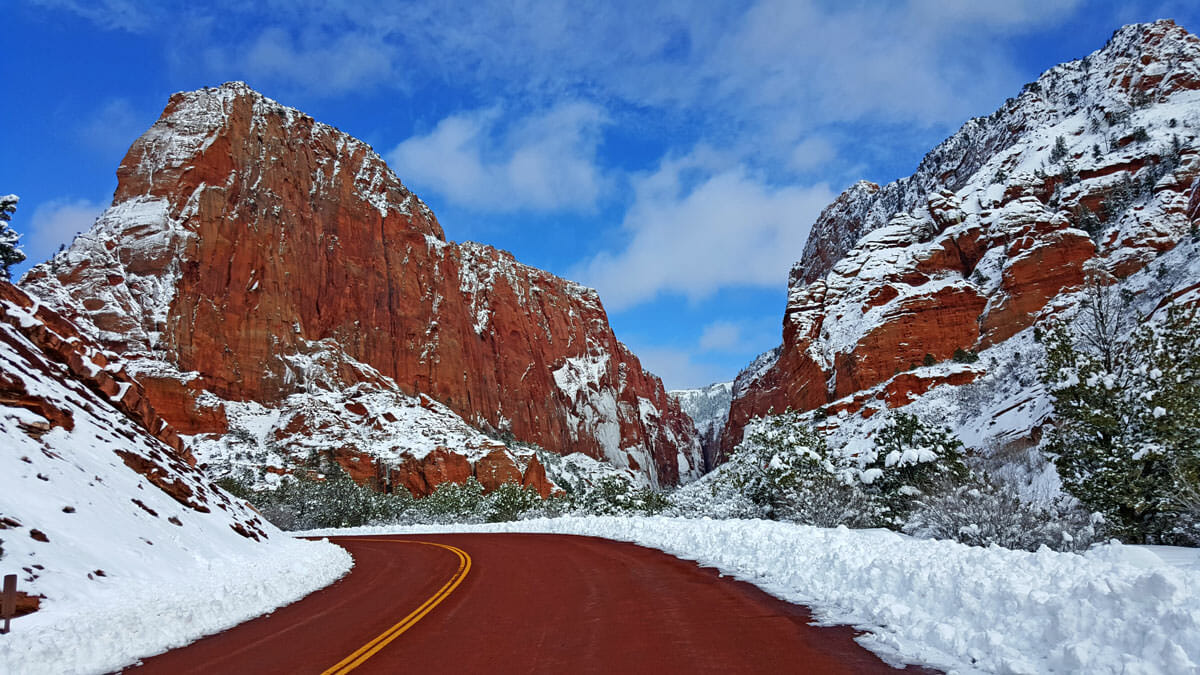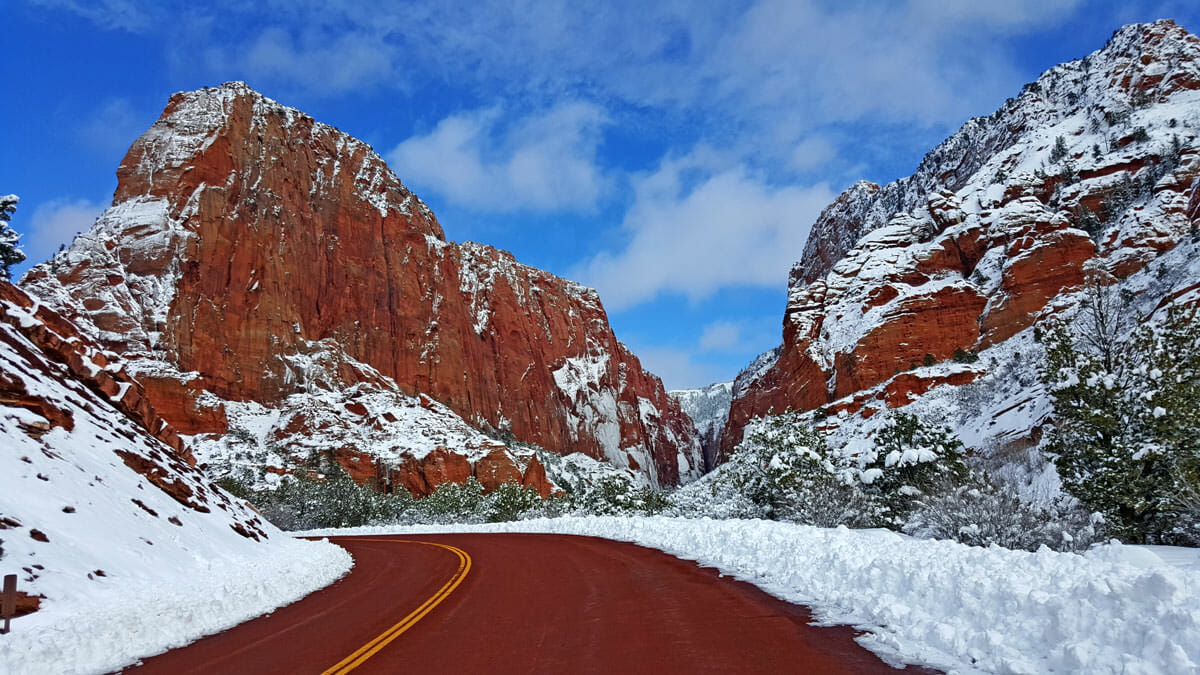 Whether you stay in Zion Canyon, take the scenic route in Kolob Canyon, or both, the drama of the white snow in contrast with the shockingly red canyons makes for one beautiful scene.
Other Winter Activities
There are many other activities to do while is Zion during the winter as well. Enjoy a day hiking, cross-country skiing, backpacking, and exploring Zion Canyon before winding down with dining at local restaurants in Springdale in the afternoon. Then sit back and relax in a hot tub at the resort or enjoy a night out on the town!
During this time of year Springdale, widely known as "The Gateway To Zion", holds many amazing concerts, shows, events, and more. If you plan your trip right, you can enjoy all the festivities during the Christmas and New Year holidays in Springdale. Their annual events are beyond fun and exciting and give you and your family the perfect opportunity to meet people from all around the world!
While there is really no bad time of the year to visit Zion, if you do choose to visit during the winter months you are sure to have an experience of Zion that many don't get the opportunity to enjoy. So start planning your winter vacation now and make sure to book with Bumbleberry Inn to enjoy a beautiful, fun, family-friendly stay!
https://bumbleberry.com/wp-content/uploads/2016/03/BumbleberryInn-Logo-shrink-2.png
0
0
Tyler Smith
https://bumbleberry.com/wp-content/uploads/2016/03/BumbleberryInn-Logo-shrink-2.png
Tyler Smith
2018-11-20 21:49:13
2019-10-22 17:27:08
Reasons to Visit Zion in the Winter