Bumbleberry On-site Restaurant
According to Grandpa, bumbleberries are burple and binkel berries that grow on giggle bushes, so named because they giggle when the berries ripen and the bush begins to quake, and at the precise moment that they ripen, they giggle.
If you were to eat a berry while it was giggling, you would spend the rest of your life giggling!
Homemade Bumbleberry Pies
People come from around the world to sample our pies and other Bumbleberry delicacies.
Visit the bakery for fresh baked goods including pie holes, turnovers and bumblina's brownies. If its ice cream you are looking for we have that too in several special flavors including Bumbleberry.
You can also take home some of our jams, jellies or other products. Click Here to visit our gift shop page and learn more.
Porter's Smokehouse
&

Grill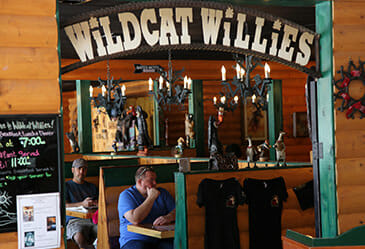 Porter's Smokehouse & Grill has a Southwestern atmosphere, serving Breakfast, Lunch, and Dinner with a full service Saloon and plasma T.V.'s
World Famous Bumbleberry Pie is served heated and with ice cream in the gift shop bakery!
Hours of Operation: 6:30 am – 10:00 pm (Seasonal)
Click Here for The Full Menu