Zion National Park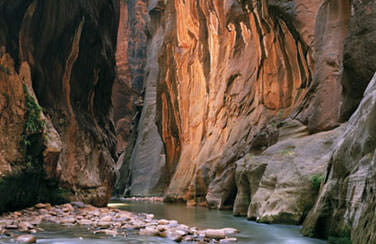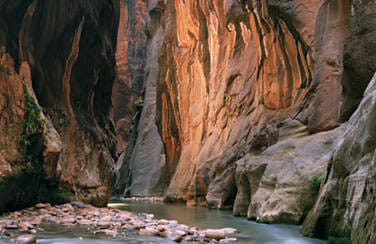 Zion is an ancient Hebrew word that stands for place of peace and refuge. As you visit the immense canyons of the beautifully sculptured rock formations, soaring cliffs and breathtaking landscapes you will agree that Zion National Park certainly lives up to its name. The parks earliest inhabitants were the Anasazi who lived in the area around 2000 years ago. 1200 years later the Paiutes began to inhabit the area and in the 1860's the first group of Mormon Pioneers arrived to settle here. In 1909 the park was established as Mukutuweap National Monument and was later expanded to its present day size of 229 square miles and renamed Zion National Park.
Quick Facts:
Size: 229 square miles
Lowest Elevation: 3,666 ft., Coal Pits Wash
Highest Elevation: 8,726 ft., Horse Ranch Mountain
Visitation: In 1920: 3,692; in 2009: 2,757,301
Weather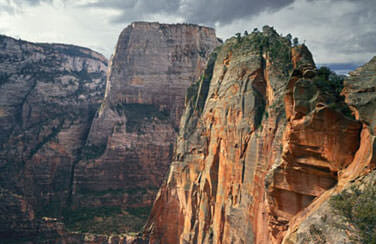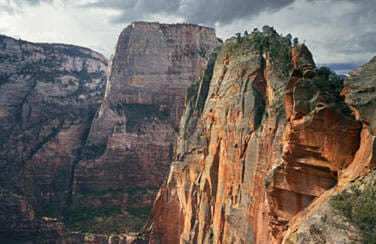 Spring weather is an unpredictable combination of wet, stormy days and warm sunny ones. Spring wildflowers bloom from April to June.
Summer days are hot with temperatures varying between 95 and 110 F. At night it cools down to 65-75 F. Afternoon thunderstorms are common from mid-July through September, producing waterfalls and causing flash floods.
Autumn is usually clear and mild. Autumn color displays begin in September and peak in late October.
Winter weather is fairly mild. Temperatures range between 40-60 F during the day and 20-30 F at night. This is a perfect time of year for hiking with the lower temperatures
To see the current weather in Springdale, click here.
Shuttle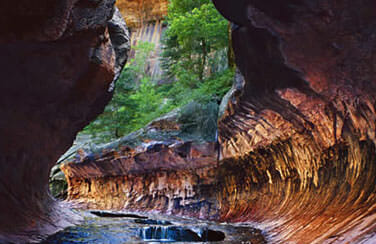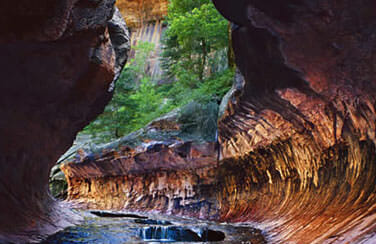 Because almost 3 million people visit Zion National Park each year, the shuttle system was established to help eliminate traffic in the park. Riding the shuttle is a free and fun way to tour the park. Shuttles operate from late March through late October, during this time private cars are not allowed to drive through Zion Canyon (other roads of the park remain open to private vehicles). Shuttles operate daily from 6:30 a.m. until 9:30 p.m. A complete round trip along Zion Canyon will take a minimum of 90 minutes, but you can get on and off as often as you like, to take pictures and enjoy the views.
To learn more about the Zion shuttle system, click here.
Airports
St. George – 45 minutes
Las Vegas – 3 Hours
Salt Lake City – 5 hours
Video Tour
Check out this quick video tour video of Zion National Park. It has some great views of the tremendous hiking opportunities, information about the popular scenic drive, and other tips on how to make the most of your visit to the park.